If you say, "I should do that", The boat doesn't hear you
So where we left off was, pulling out of our peaceful 2nd night's anchorage in Charlotte Harbor. At that moment, all was right with the world. We actually had managed to get a decent amount of sleep, even with the drift alarm going off here and there and just the unease of doing what we had never done before.
It's hard to put into words sometimes how this experience feels. Oh, I can report what happened and where we were and what the weather and sea conditions were, but it's the HEART of it, how it feels, that I sometimes struggle with. How do you describe the thrills, the worries, the thoughts and feelings we have as we embark on each day's and night's adventures?
I thought this time, I would do a "He said, " "She said, " and "Google says," Robert provided me with the timeline of events in case I forgot something by the time I actually put this together. So I have his words, and I know what I was thinking- and feeling- which was a lot of panic, only offset, and managed by Robert's complete calm.
I think this will be fun......right? Here Goes...
He Said:
Pulled anchor about 0900 and headed back north towards home. Thinking we would possible pull into Venice to anchor Sunday evening. The wind was pretty light and the gulf was pretty calm so we decided to put up the mainsail to catch a little more wind. That is when it got interesting. While raising the mainsail, the head of the sail got caught up in the lazyjacks and wouldn't come loose. I messed around with the lines while Paula operated the halyard to try to get them unfouled to no avail. I finally had to completely undo the starboard lazyjack so that we could raise the sail. Got the sail up and we will deal with the lazyjacks later.
She said: OMG! So many people have told us these lazy jacks would be an issue- I actually think he just likes the name LAZY...now look at these lines all in the mess all over the deck- oh, for heaven's sake- now we have to pay someone to fix them..more money, more money, more money, .....but wait....is that a dolphin?
Google says: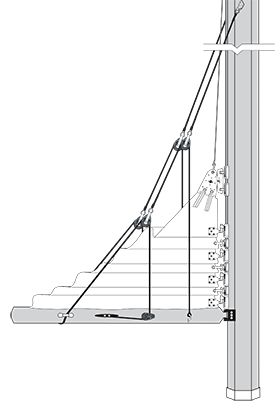 A lazy jack system on your sailboat – a classic case of form vs. function. Some say it's uncool. Some say it's the usefulness that matters. Up to you to decide.
Lazy jacks are rigging lines that are fitted to the upper section of the mast and come down towards the back and middle of the boom. A properly installed system of lazy jacks are meant to help guide the sail down as it's being doused or reefed to make the job easier. Using lazy jacks is a great idea for singlehanded sailors, those who are short on crew or for a lazy crew that just wants the job to be easier! Some lazy jack systems are fixed while others can be detached from the boom and stowed against the mast. What they are is basically a guiding system to keep the sail over the boom as it's coming down rather than having it fall over into the cockpit cluttering everything up. Lazy jacks are most common in Bermuda rigged sloop sailboats but can also be found or more traditional gaff rigs.

Lazy jack systems can be bought off-the-shelf or custom made. Neither is necessarily the best way to go about it. It all depends on your boat, your needs and how you want the system installed. Of course, if you have time to work on it, doing the job yourself is the most inexpensive way of installing a lazyjacks system. Plus, another benefit of making them yourself is that you can build the system specially designed for your boat, to fit perfectly and work better than off-the-shelf systems. You can likely put a lot more thought into building materials and end up with a system that not only works better, but also lasts a lot longer.
He said:
Once the mainsail was up the wind pushed us along at a nice leisurely pace. Paula at the helm is so natural to her. She does it mainly by feel and just has me adjust the traveler on the mainsheet and the trim of the Genoa to suit her feel. We tacked back and forth a few times as we worked against a northwesterly wind. The day started getting late and we were getting closer to Venice where we planned to stop for the night. This was about 2100.The water going into the Venice channel was really confused and the channel is very narrow and the boat traffic there was horrible. At that time I made the decision that we were going to sail on.
She said:
WHAT THE HECK DO YOU MEAN "SAIL ON" ???WHAT?? THIS WAS NOT PART OF THE &#@!x*ING PLAN! OH NO, OH NO, OH NO, I'M NOT READY FOR THIS, NO NIGHT SAILING, I'M COMPLETELY FREAKING OUT ....oh hey...is that a dolphin?
He Said:
There was no good option for anchorage between there and Egmont key just off of the gulf and that was still a good 7-8 hours away. I have read about people doing night sails before and this was as good of a time as any to give it a go, so off we went. Paula and I traded off at the helm for most of the night. I have to say that the stars out there were incredible and the night was beautiful out! The chart plotter and the compass did its job as well as the paper charts we had. I really want to learn celestial navigation soon. As we were getting near Tampa Bay, the engine seemed to be losing power, we kept on moving, but it wasn't right. Just coming past Egmont key, the engine died. Since it is a diesel and I knew it wasn't overheating, I knew it pretty much had to be a fuel problem. It restarted right away and we continued on. After a few times dying and restarting we got through Tampa Bay and up the Manatee River.
She said:
My will isn't ready, I can't see anything, why is HE SO CALM? I TOLD him we needed a spare fuel filter, I specifically said we needed a spare fuel filter....no, I don't want to take the helm, are you CRAZY? It's dark!
Look at the stars. Man, that is a beautiful sky....this isn't as bad as I thought...kind of peaceful actually ....I think someone is supposed to sleep, aren't they? Why can't boats have headlights?
Oh hey, is that a dolphin?
Google says:
There are a number of reasons boats don't have headlights. Here are some that I can think of right now:

If you're driving a boat at night, you usually want to preserve your night vision, so you will have no lights on, or a red light, or use a spotlight occasionally if you're looking for objects in the water.
Headlights are great for lighting the road directly in front of you, but in a boat, you want to see around you, not just in front of you.
Boats move up and down in the water, which would make stationary headlights annoying and pretty useless.
Boats have navigation lights that indicate their direction, if they are on anchor, or if they are towing anything. The front of a boat (the bow) has a green light on the right side, and a red light on the left side, and the back of a boat (the stern) has a white light. Having headlights would make it hard to identify these lights, and therefore which direction the boat was headed.
He said:
When we were about 100 yards from the marina at about 0430 Monday morning, the engine died and wouldn't restart. We still had the mainsail up and with forward momentum, we were able to get to the north side of the Manatee river that looked like a good anchorage to drop anchor for a few hours. I figured worst case scenario, I would call the towboat in a few hours. Paula went down below for some shuteye and I thought I would stay up in the cockpit to make sure we didn't drift. I woke up about 3 hours later. I went below to look to see if there was anything that I could do to get the engine going. First thing was to check the fuel filters for clogging. The racor water separator/filter near the engine looked fine so I pulled the inline filter right before the lift pump. I tried blowing through it and the filter was plugged tight. I looked through my spare parts and there were no replacements on the boat! DAMN! Not good! I guess I will have to get a little medieval on the filter. I used a Phillips screwdriver and stuck it into the inlet end and pushed hard enough to release the internal bypass spring. It must have rusted shut. I pushed it multiple times and then was able to blow through it! Success! I reinstalled the offending filter and Paula went up to the cockpit to crank the engine. After a few starts and stalls, the engine started and hummed along like every other 3 cylinder diesel out there! I proceeded to the bow to pull up the anchor. The bottom was really muddy and the anchor was pretty fast to the bottom. I got it loose with Paula backing the boat around to help pull it loose. Note to self: need a windlass! We got the rest of the way back to our slip with no other issues. All in all a very successful journey of about 150NM as the crow flies…….probably closer to 200nm with tacking and sailing off the wind. Made a few notes of repairs and maintenance items for the coming weekend so she is ready for another weekend!
She said:
Oh thank God we are anchored safely, Oh thank God, Robert is so handy with fixing things, oh Thank God we don't need a towboat, Oh Thank God I can see our marina from here, Oh thank God for this boat and this husband and this wonderful adventure...I will never, ever forget it ...
Wait...Is that a dolphin?
And Google says;
An adventure is only an inconvenience rightly considered. An inconvenience is only an adventure wrongly considered.


G. K. Chesterton
""The habit of always putting off an experience until you can afford it, or until the time is right, or until you know how to do it is one of the greatest burglars of joy. Be deliberate, but once you've made up your mind -jump in." ~ Charles R. Swindoll

Getting an idea should be like sitting on a pin; it should make you jump up and do something. ~ E. L. Simpson"